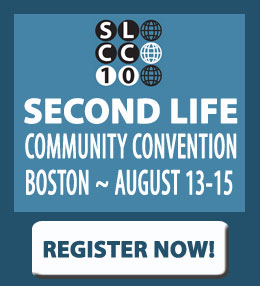 The Second Life Community Convention is coming up soon! It will be happening August 13-15 at the
Park Plaza Hotel
, right in the heart of Boston. The registration link is live now; click the graphic to get there.
I've thrown in my hat to volunteer to organize the art, machinima, and theater track. So if nobody better comes along, you just might be talking to me about it :) Whether or not it's me, make sure to get over to slconvention.org and put in proposals for art-related panels and events.
And... I'm planning to attend at least some of the convention as Shirley! (Certainly at least the big ball. I've already got a fabulous pair of shoes, something which is a challenge for my RL self; unlike SL they don't always fit.) Misprint Thursday has volunteered to help me with the makeover. I am so looking forward to meeting some of you as the me that I want to be; I hope you'll be there!